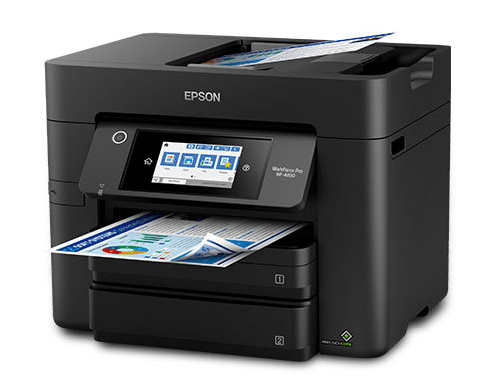 This page contains the latest Epson WF-4830 all-in-one printer driver. Follow the steps in the guide below to download and install the correct drivers for your Epson WF-4830 all-in-one printer.
The given Epson WF-4830 driver download link is for Windows 11, 10, 8, 8.1, 7, Vista, XP (32bit/64bit), Windows Server 2000 to 2022, Linux, Ubuntu, and MAC 10.x, 11.x, 12.x Operating System. Aside from the download links, we also provided an installation guide to set up the WF4830 printer without any problem. See the download section and installation section below.
Steps to Download Epson WF-4830 Driver
All operating systems supported by Epson WF-4830 have been mentioned in our OS list given below. Follow the download steps mentioned below to get the Epson WF-4830 driver setup file.
To download the full feature driver, click on the 'Full Feature' download ink in the Windows and/or Mac section.
To download the Epson basic driver, choose the operating system from our OS list where you want to install this Epson printer, then click on the 'Printer Driver' or 'Download' button related to your chosen OS version to get its compatible Epson printer driver and click on the 'Scanner Driver' link to get the compatible scanner driver.
Epson WF-4830 Driver for Windows
Epson WF-4830 Driver for Mac
Epson WF-4830 Driver for Linux/Ubuntu
Epson WF-4830 driver for Linux, Ubuntu –

Not Available
OR
Download the driver directly from the Epson WF-4830 official website.
How to Install Epson WF-4830 Driver
We have shared the below installation guide for the full feature driver and the Epson WF-4830 basic driver. Select the guide that describes the installation process of your Epson printer driver type, then follow its instructions to properly install your Epson printer drivers.
Method 1: How to install driver automatically using its setup file
Method 2: How to install driver manually using basic driver (.INF driver)
Description: The Epson WF-4830 all-in-one printer has been designed to streamline the workflow of busy offices. This printer is a complete duplex solution, which means it can perform automatic double-sided print, scan, copy and fax functions. Also, the automatic document feeder of this printer allows you to complete multi-page scan and copy tasks without physically standing around the printer. The Epson inkjet printer supports USB and Wi-Fi connectivity options.
Which ink is used in Epson WF-4830 printer?
This Epson inkjet printer uses one Black, one Cyan, one Magenta and one Yellow ink cartridge for printing. The standard Black and high yield Black ink cartridges can print up to 350 pages and 1100 pages respectively. The standard Cyan, Magenta and Yellow ink cartridges can print nearly 240 pages per cartridge. While the high yield Cyan, Magenta and Yellow ink cartridges can print almost 1100 pages per cartridge.
| | |
| --- | --- |
| Epson 4830 Ink Cartridge Description | Ink Model Number |
| Standard Black ink cartridge | T822120-S |
| High Yield Black ink cartridge | T822XL120-S |
| Standard Cyan ink cartridge | T822220-S |
| High Yield Cyan ink cartridge | T822XL220-S |
| Magenta ink cartridge | T822320-S |
| High Yield Magenta ink cartridge | T822XL320-S |
| Yellow ink cartridge | T822420-S |
| High Yield Yellow ink cartridge | T822XL420-S |
Advertisement