Here's in this article we'll tell you how you can download and install Canon Pixma MX490 printer driver on Windows 10 and other older operating systems. The download and installation process is very simple, you just need to follow the following download and install steps.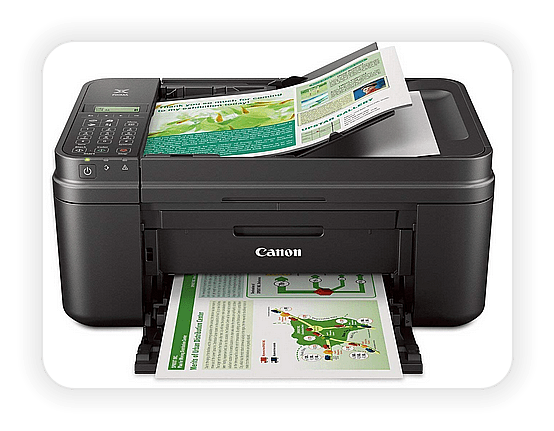 The Canon PIXMA MX490 is an all-in-one that can deliver high-quality prints with amazing connectivity options. Some users are unable to set up this printer because they have lost or misplaced their Canon PIXMA MX490 software CD. For such users, we would recommend installing the latest Canon PIXMA MX490 driver package.
On his page, we are providing Canon PIXMA MX490 driver download links of Windows XP, Vista, 7, 8, 8.1, 10, Server 2008, Server 2012 and Server 2003 for 32bit and 64bit versions, Linux and various Mac operating systems. Since we are providing full drivers of this printer, they include the scanner driver, which you can install even if your printer is offline.
Steps to download Canon MX490 printer driver
Study the list of the operating system given below and select the OS where you want to install your printer. Then, use the download link given for that OS to get your Canon PIXMA MX490 driver setup file.
Driver Download List
Canon Pixma MX490 Driver for Windows.
Download Link.
Full Driver & Software Package for Windows XP, Vista, 7, 8, 8.1, 10, Server 2000 to 2016 32-bit / 64-bit

(Recommended)

Download (Full Feature)
MP Drivers for the above OS
Download (MP Driver)
Canon Pixma MX490 Driver for Linux
Download Link
Printer Driver for Linux, Ubuntu 32bit / 64-bit

(Printer Driver)

Download (Printer)
Scanner Driver for Linux, Ubuntu 32bit / 64-bit

(Scanner Driver)

Download (Scanner)
Canon Pixma MX490 Driver for Mac

Download Link
Driver for Mac v10.0 to 10.13 High Sierra

(Full Feature)

Download
Driver for macOS v10.14, 10.15 Catalina

(CUPS driver)

Download
OR
Download the driver directly from Canon's official website.
Driver Compatibility
It is difficult to determine the compatibility of a printer driver, but one thing is certain, that all the drivers available on the official website of the printer manufacturer are always compatible with their respective operating systems.
Therefore, on this website, we are sharing full feature Canon PIXMA MX490 driver download links, which are of the official Canon website. Searching the right driver on the Canon website can be a time-consuming process, which we have simplified on this page by providing single-click download links.
Various Types of Printer Driver
PostScript or PCL
The purpose of a printer driver is to convert the printable data into a format that a printer can understand. Therefore, there are multiple printer languages that are used by different printer manufacturers. The two most commonly used languages are PostScript and PCL.
The Printer Control Language (PCL) is an HP trademark language widely used by multiple manufacturers. Also, because this language is supported by multiple operating systems it allows the printer to work in different environments. The PostScript (PS) language is a language mostly used with Mac platforms. This language was developed by Adobe and has gone through many enhancements since its release.
Full or Basic driver
The difference between full and basic driver is simple to understand and can help you in choosing which driver you should install. The full driver provides all the tools and software you need to use all the functions of your printer. Therefore, installing a full driver is recommended by most printer manufacturers.
On the other side, a basic driver allows you to use only a few features of your printer. Some basic drivers don't even allow you to use the scan function of you're all-in-one. However, a basic driver can be useful for users who want to use their printer only for printing, have storage limitations on their computer, or are going to use third-party software for scanning.
Selecting a Printer Driver
Selecting a printer driver depends on which printer functions you want to use and also with which operating system you are going to use your printer. Therefore, knowing the exact model number of your printer and the right version of your operating system is important for choosing the right driver. Also, it's always safe to install the full feature driver on your computer as you will get a complete driver along with its printing software.
Driver Update
A printer driver allows various programs on your computer to print without knowing about the technical details of your printer model. Therefore, the print output of your several programs and your printer is dependent upon the performance of your printer driver.
Several times bugs are found in the existing version of a printer driver and to resolve those bugs printer manufacturer releases a new version of that printer driver. You must update your computer with this new driver because it is the easiest way to make sure that your printer will run on its most stable support software.
Canon PIXMA MX490 Supported Operating Systems
Windows XP 32-bit and 64-bit
Windows Vista 32-bit and 64-bit
Windows 7 32-bit and 64-bit
Windows 8 32-bit and 64-bit
Windows 8.1 32-bit and 64-bit
Windows 10 32-bit and 64-bit
Mac OS
Linux
How to install Canon mx490
Users commonly make a mistake of thinking that installing a printer driver is like installing any other driver. Therefore, to clear your doubts about how to install a printer driver we are sharing a driver installation guide below. Please, read our guide before starting the printer driver installation.
Install your driver with an installer
Install your driver without an installer
Check the following video tutorial to set up this printer wirelessly using the USB cable.
Canon PIXMA MX490 Features
The Canon PIXMA MX490 is an all-in-one that has been designed primarily to be used in an office environment. Therefore, many features have been provided with this printer which allows users to print from multiple locations, such as smartphones, tablets, etc. This device has many time-saving features, like the automatic document feeder and an LCD touchscreen.
Apart from copy, scan, print, and fax feature the Canon PIXMA MX490 offers many advanced functionalities. Once you install wireless setup for this printer you can connect to WiFi devices. Read the Canon PIXMA MX490 manual to know more about how to scan using wireless devices and how you can add other wireless devices. If this all-in-one is not responding to other wireless devices, then you can connect it by using a USB cable also.
This printer is bundled with software that empowers you to access all its fantastic functions. The "My Image Garden" software has printing options, such as Full-HD Print and some special filters for convenient printing. You also get the option with this software to organize your photos in a better way, like by using facial recognition.
Functions: Print, Scan, Copy, Fax
Print technology: Canon Inkjet
Printer output: Color
Print speed: maximum of 8.8 ipm.
Connectivity: Wireless, USB 2.0.
Print resolution: maximum 4800 x 1200 dpi.
Canon PIXMA MX490 Cartridge Details
This Canon inkjet printer uses one Black (8279B001) and one Color (8281B001) ink cartridge.
Advertisement