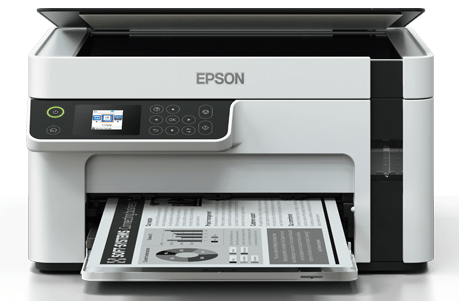 Are you thinking about updating the drivers of your Epson M2120 all-in-one printer? Updating the driver with the latest one is a good initiative but make sure that the new drivers are from Epson's official website only.
I would love to help you with this. On this page I have prepared a step-by-step guide on how to download and install the Epson M2120 printer drivers. Although the drivers are available on Epson's official website, here I am sharing with you a single-click download link.
All the Epson M2120 driver download links you will find on this page are of official Epson printer drivers. We have shared Epson drivers for the Windows 11, 10, 8, 8.1, 7, Vista, XP (32bit/64bit), Windows Server 2000 to 2022, Linux, Ubuntu, and MAC 10.x, 11.x, 12.x OS along with their detailed installation guide.
Steps to Download Epson M2120 Driver
In our OS list, you will find all the operating system versions supported by this Epson printer. Select your preferred operating system and use its download link to get your Epson M2120 driver setup file.
Epson M2120 Driver for Windows
Epson M2120 Driver for Mac
Epson M2120 Driver for Linux/Ubuntu
OR
Download the driver directly from the Epson M2120 official website.
How to Install Epson M2120 Driver
In this section, you will find the installation guide for the full feature driver and the Epson basic driver. Read the guide associated with your driver type and follow its installation instructions in their correct order to properly install the Epson M2120 drivers on your computer.
1) Install Epson M2120 Printer Using Driver Package
Here, we are sharing the installation steps for the full feature Epson M2120 driver. You can use this installation process for all versions of the Windows operating system.
Run the driver package file and wait for its files to extract on your computer.

In the Epson Printer Utility Setup screen, click on the 'OK' button to proceed.

Select your preferred language, we have selected 'English' language, then click on the 'OK' button.

In the Epson Eula screen, choose the 'Agree' option to accept the Epson End User Software License Agreement, then click on the 'OK' button.

Wait for the setup program to install the drivers on your computer.

In the Epson Printer Utilities Setup screen, choose the 'No: USB connection' option and make sure that the 'Set as default printer' is selected, then click on the 'OK' button to continue.

Connect your Epson printer to your computer using a USB cable, then follow the on-screen prompts to complete the Epson printer driver installation process.

That's it, you have successfully installed the Epson M2120 driver package on your computer and your Epson printer is now ready to print, scan and copy documents.
2) Install Epson M2120 Printer Using Basic Driver
Some users may want to install this Epson printer using its Epson M2120 INF driver. Therefore, for all such users, we are sharing below an installation guide which clearly describes the right method of installing the Epson M2120 basic driver on a Windows computer.
How to install driver manually using basic driver (.INF driver)
Epson M2120 Features
The Epson M2120 printer has been recommended for office use as it's capable of providing cost-effective printing without compromising on print quality. Epson's all-in-one printer uses heat-free technology to deliver high print yields. This monochrome inkjet printer supports both USB and Wi-Fi connectivity, which makes it easy for the users to access this printer from anywhere in their office.
Epson M-2120 Ink Cartridge Details
The ink for this Epson M2120 monochrome inkjet printer uses one Black (C13T03Q198) ink bottle, which delivers a page yield of up to 6000 pages.
---
Questions & Answers
Be the first to ask question on this page
Ask Question
,
you'll get answer as soon as possible.

It's completely FREE.
.......... No FAQs Found .........
Advertisement