Question
When I try to print from my HP 725 printer, the printer is grayed out and says offline as status. Here in this page we'll guide you How to fix offline & greyed-out printer. My operating system is Windows 7.

Solution
Printer says "Offline" as status and greyed-outns there are many reasons behind that. Please follow the below steps to get rid of this issue. You'll get back my printer online.
Follow the below given steps. see the animation how to get back your printer online again.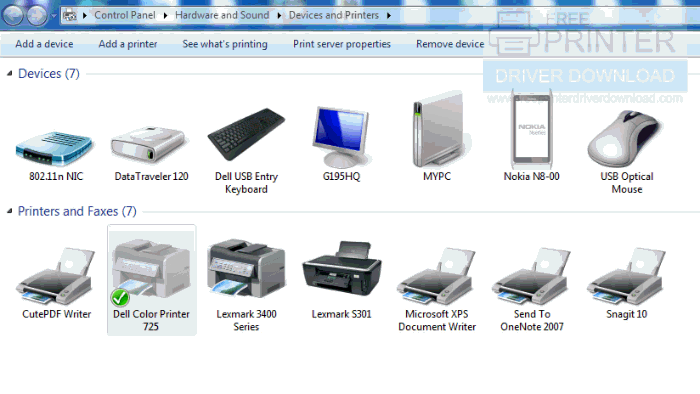 Steps
Ensure that the printer is turned on
Ensure that the printer USB cable of the printer is plugged with the computer
Now, if both of the above points are OK, then please uncheck the tick mark of "use printer offline" option. To do this, click on "Start" button and then click on "Control Panel" then click on "Devices & Printers".
After that a printer & devices page will be opened then right-click on your printer "hp 725" and choose "see what's printing" option.
A new printer status windows will be open up. Click on "files" menu and un-tick the option "use printer offline" if it is ticked then close all the window.
Now open "my computer" and open this path "c:/windows/system32/spool/printers", now please make it empty the folder "printers", delete all the files if you see in printers folder. (*if any problem facing while deleting the file then restart the computer once then try to delete)
That's it now try to restart the computer once and restart the printer as well.
Faq
Q. How to do power cycle the printer ?
A. Just unplug all the cables from back of the printer and  hold the power button for 20 seconds then plug all the cable and start it.
Q. Why my printer says offline ?
A. There are many reasons for that, first is that printer is not plugged and not turned on, second is that you did a print out when the printer was turned off. That's why it says "use printer offline".
Q. When I try to print printer says offline how do i get online ?
A. please follow above article to fix that error message.
Have a Question?
Ask a question regarding your printer issue. You'll get the answer as soon as possible and will be notified by email when someone answers. It's Free
Be the first to ask question on this page. You'll get answer as soon as possible.