The Brother MFC 7360n all-in-one is a device that is best suited for home and small office users. This monochrome laser printer delivers fast and high quality prints at low costs. This multi-function machine supports USB connectivity. The Automatic Document Feeder feature of this printer truly improves its productivity.
In this driver download guide, we are sharing Brother 7360N driver download links for the Windows, Linux and Mac operating systems. We have only shared genuine Brother printer drivers along with their detailed installation instructions.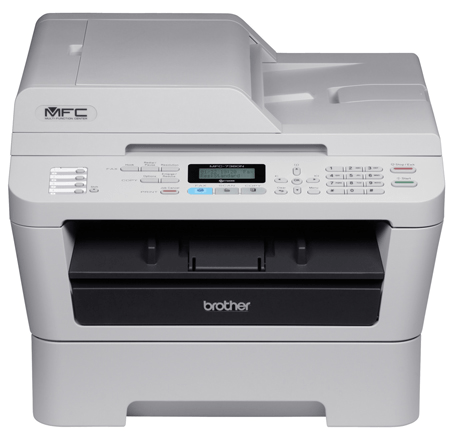 Steps to Download Brother 7360N Driver
Choose your preferred operating system from our OS list and use its download button to get your Brother 7360N driver setup file.
Driver Download Links
OR
How to Install Brother 7360N Driver
The installation guide given below describes the installation process for the Brother 7360N driver package and the Brother 7360N INF driver. Read the guide according to your driver type and follow its instructions properly.
Brother 7360N Toner
This laser printer uses one Black (TN-2210) toner cartridge which can print up to 1200 pages.
Question: Hi we have a Windows 10 PC with all updates. The persisting problem has been when printing from this machine we get an image 3mm across repeating three times down LHS of all pages printed on a Brother 7360N. As the subsequent pages print the equally spread apart image (same image) drifts up and down the page, The image under magnification looks like an old icon or gif from MS Office. I ran your product (thinking a spooler old data issue) but the problem persists. Thank you in advance.
Advertisement