Epson is one of the largest sellers of inkjet printers in the world, and Epson L361 is one of its foremost inkjet printers. Despite being a highly reliable printer from a reputed brand this printer has some shortcomings. One such issue is that it has a limit for maximum prints after which this printer's red light starts blinking and it shows error like 'Service required'. This sudden display of error makes a user think that their printer requires hardware servicing, but this problem can be easily resolved in a few minutes.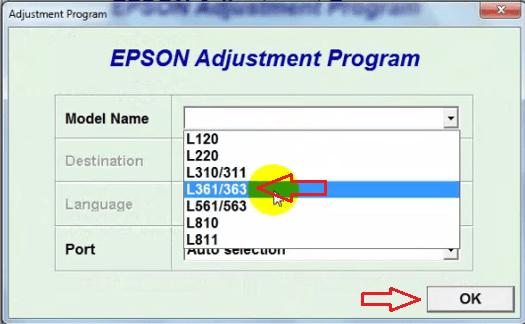 To resolve this problem, you will need to use Epson L361 adjustment program. This program will allow you to reset your printer to its factory settings so that it can start printing as normal. Below, on this page, you will find the official Epson L361 adjustment program tool 100% free. We are also providing complete instructions on the right method of using this reset program to resolve the Epson L361 service required error.
By using this reset utility you can remove the error message for a time period but this is not a permanent solution, this is a temporary solution. Although this utility comes in free of cost by Epson, some gold diggers make it commercial and sell this reset utility. You can use this reset utility to reset the ink pad counter of Epson 361 printer.
How to Download Epson L361 Adjustment Program for Free?
The Epson L361 resetter software is an official Epson program released by the company to resolve multiple issues regarding Epson L361 printer malfunctions. Here, we are sharing 100% free download link of Epson L361 reset utility. You can use this program for an unlimited period of time.
Epson L361 Adjustment Program
Click on the Download Link button given below
Download Link
Zip file Password: fpdd
File: Epson-L361-Adjustment-Program.zip
If you face any complications while using the tool, then read its FAQs carefully.
Why Does a Service Required Error Appear for Epson L361?
Every Epson L-series inkjet printer is set to print a limited number of pages after which it starts displaying 'Service required' error.
The primary reason behind that is excess inks in their waste ink pads. Yes, waste ink pads, these are small sponge pads inside the Epson inkjet cartridges which are supposed to absorb waste ink after each printing session.
After a lot of printing, when these ink pads start to overflow with waste ink, then you are shown the "Service required" error – Means the a part inside your printer is at the end of its service life. Now, let's see how you can resolve this error by using Epson L361 reset utility. After using this resetter, you can easily reset the service life end issue.
How to Resolve Service Required Error with Epson L361 Resetter Tool?
After downloading the Epson L361 adjustment program from the above given link extract its files into a folder and follow the instructions given below in their exact order.
How to use Epson L361 Adjustment Program:
Download the Epson L361 resetter utility from the above given download section.
Disable your antivirus for meantime. Note: If this cannot be done properly then the main resetter file (Adjprog.exe) will be deleted by your antivirus.
After disabling antivirus, extract the downloaded zip file.
Go to the extracted folder and run 'Adjprog.exe' (Main Adjustment Program).
In this window, click on 'Select'.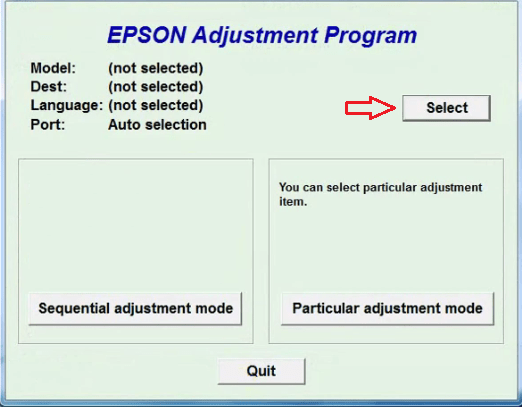 In the Model Name list, choose 'L361'. In the port, leave it as 'Auto Selection'. Click 'OK'. You can select the port name if you know in which port your printer is connected.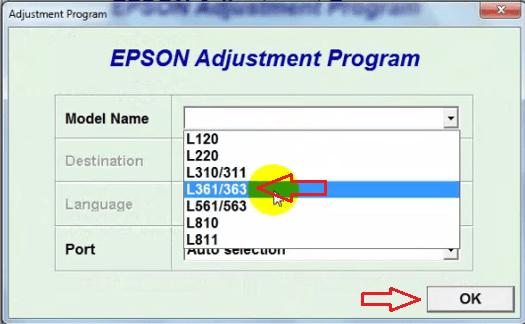 Click on 'Particular adjustment mode'.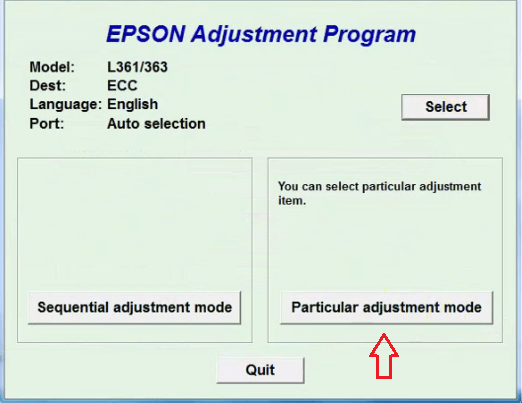 In the Maintenance section of the list, choose 'Waste ink pad counter' and click 'OK'.
Click 'Main pad counter' checkboxes and then click 'Check'.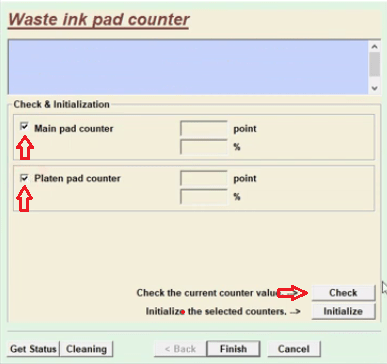 7. Now you can see score of various pad counters. We have to make this score zero. For that again select 'Main pad counter'checkboxes and this time click 'Initialize'.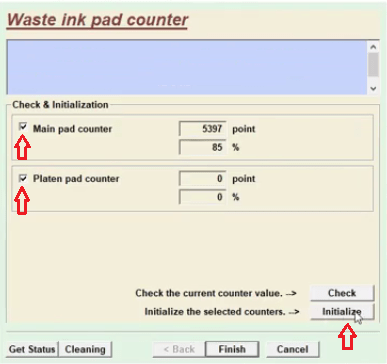 Your permission will be asked to start the initialization process. Click 'OK'.
Wait for some time and a message will appear to turn off your printer. Switch off your Epson printer and click 'OK'.
In this message you will be told to restart your printer and also to recheck your pad counter scores. So, restart your Epson printer and click 'OK'.
Again execute the step 6 and check your pad counter scores. If they are zero, then click on 'Finish'. If they are not zero, then again execute the steps 8, 9, 10 and 11.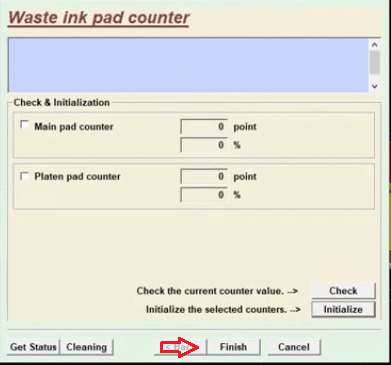 The pad counters on your printer have now been reset to their factory settings. Therefore, your Epson L361 should start printing normally.
My View on it.
The Epson L361 adjustment program free download link that you get on this page can be of immense use to you if you own the Epson L361 printer. That's because this Epson resetter program can be used for resetting your Epson L361 printer to its factory settings each time it malfunctions due to heavy usage. Since, the Epson L361 adjustment tool you get here is completely free, you can use it as many times as you want.