The Epson L455 all-in-one is an inkjet printer which uses integrated ink tanks technology to deliver high quality prints at extremely low costs. This multi-function machine supports wireless connectivity, which means you can easily print, scan and copy documents with this machine by using your mobile device.
The built-in memory card support on this printer allows you to print directly from a memory card without requiring a computer. The color LCD screen of this printer helps in easy operation as you can quickly access several features of this device. You can use this display screen to select the images for printing. However, you must install this Epson all-in-one using its genuine Epson drivers.
Therefore, in this Epson driver download guide, we have offered the Epson L455 driver download links for Windows, Mac and Linux operating systems. We have taken special care to provide only genuine Epson drivers that are fully compatible with their associated operating systems.
We have also shared complete installation instructions for these printer drivers so that you can install them without any errors. For your assistance, the wireless setup process for this Epson printer has also been described below.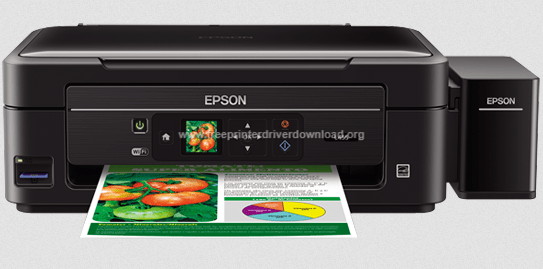 Steps to Download Epson L455 Driver
Epson L455 supports a wide range of operating systems and we have mentioned each one of them in our OS list. To download your Epson L455 driver setup file, please follow the download steps mentioned below.
From our OS list, locate the operating system where you want to install your Epson inkjet printer.
Now, use the download button related to your chosen operating system to begin the download of your Epson driver file.
Driver Download Links
Driver Description
Download Link
Epson L455 driver for Windows XP, Vista, Windows 7, Windows 8.1, Windows 10

(32bit)

Printer Driver (26.3 MB)

Scanner Driver (24.7 MB)

Epson L455 driver for Windows XP, Windows Vista, Windows 7, Windows 8.1, Windows 10

(64bit)

Printer Driver (29.76 MB)

Scanner Driver (24.7 MB)

Epson L455 driver for Mac OS 10.x to 15.0 Catalina , 11 Big Sur


Printer Driver (113.5 MB)

Scanner Driver (25.2 MB)

Epson L455 driver for Linux, Ubuntu

Not Available

OR
Download the driver directly from the Epson L455 official website.
How to Install Epson L455 Printer Driver
Proper installation of your printer driver is important if you want to get its optimum performance. Therefore, we have shared below the installation process for the Epson L455 printer driver setup file and the Epson L455 INF driver file. Read the installation guide that fulfills your requirements and follow its steps in the right order.
1) Install Epson L455 Driver Using Driver Package
Installation steps for the Epson L455 driver package have been provided below. Read our installation steps carefully and follow the same steps for all versions of the Windows operating system.
Run the driver package and wait for the extraction of its files.

Click "OK" to start the installation process.

Choose your preferred language and click 'OK' to proceed.

Select 'Agree' to accept the license agreement, then click 'OK' to continue.

Wait for the driver installation to complete.

Now, connect your printer to your computer using the USB cable. If you want to connect through any other port or your printer is over a network, then choose 'Manual' button and follow the prompts. We connected the printer via USB cable.

When you see the message that the printer driver installation and port configuration has completed successfully. Press 'OK' button to finish the installation process.

That's it, you have successfully installed your Epson L455 printer on your computer and now it's ready for use.
2) Install Epson L455 Driver Using INF Driver
In the printer driver installation guide shared below we have described the installation steps for the Epson L455 INF driver. We have explained the installation in simple steps. Therefore, you must read our guide at least once before installing your INF driver so that you can avoid printer driver installation mistakes.
How to install driver manually using basic driver (.INF driver)
How to Setup Epson L455 via Wi-Fi Router (Wireless)
Follow the steps given below to setup your Epson L455 printer wirelessly over a network by using your wireless router. Before starting the setup process, make sure that your wireless router is turned on and ready for use.
Start your printer. Then, use the 'right arrow' key to navigate the menu and reach 'Wi-Fi Setup' option.

Press 'OK' to open Wi-Fi Setup option.

Use 'right arrow' key to reach 'Push Button (WPS)' option.

Press 'OK' to activate Push Button Connectivity.

'Press the push button of router' message will appear on the printer display screen.

Press and hold the 'WPS' button of your Wi-Fi router for nearly two minutes.

Your printer will now automatically detect your Wi-Fi router and complete the connection. Once your Epson L455 printer is connected to your router, you can use all the computing devices connected to the router to operate this Epson printer.
Epson L455 Ink Details
The ink for this inkjet printer comes in Black (C13T66414A), Cyan (C13T66424A), Magenta (C13T66434A) and Yellow (C13T66444A) ink bottles. The page yield of Black ink bottle is almost 4000 pages, while that of Cyan, Magenta and Yellow ink bottles is nearly 6500 pages per bottle.
Advertisement