I am trying to install the printer driver manually using its ".inf" basic driver, but when I tried the manual steps, I received an error message "Default printer cannot be set". I have attached a screenshot for the same. Any further help is appreciated. Thank you.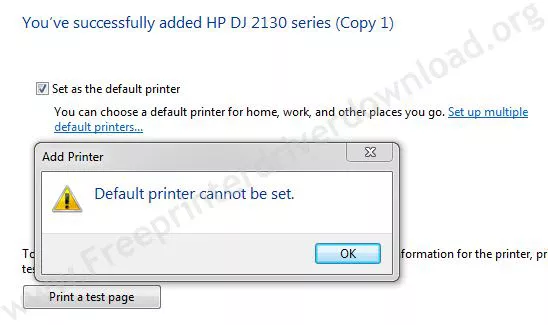 Hi, So sorry for the delay in reply. Your email was mistakenly missed.
If your system cannot set the default printer, it means there is some permission issue in the printer entries in the registry. To fix it, you'll have to follow the following steps:
Steps:
1. Open Run command box – Click Start, All Programs, Accessories, and choose Run. (Press Windows + R key altogether)
2. A "Run" window will open
3. Type regedit and press OK button
4. A registry editor window will now be opened.
5. Go to HKEY_CURRENT_USERSoftwareMicrosoftWindows NTCurrentVersionWindows.
6. Click Edit on the menu navigation up there, or you can just right click on the Windows folder and click "Permissions"
7. A permission for Windows tab will open
8. Tick the option Allow at Full Control for "Everyone" and press OK button.
9. Close the registry editor window
10. Restart computer.
Enjoy the fix!!
---
Questions & Answers
Be the first to ask question on this page
Ask Question
,
you'll get answer as soon as possible.

It's completely FREE.
.......... No FAQs Found .........
Advertisement