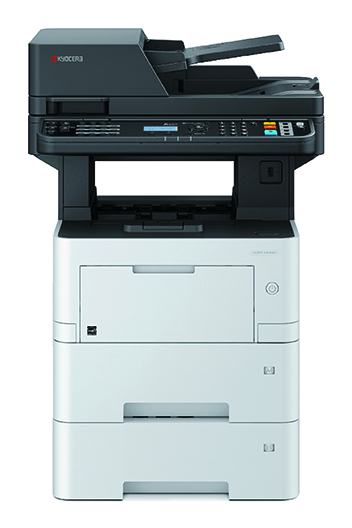 Kyocera ECOSYS M3645dn is a heavy-duty copier usually installed in busy offices. Therefore, to maintain its best performance you should regularly update its drivers with their latest drivers, firmware and software.
We are providing a single-click download link for the latest  Kyocera ECOSYS M3645dn driver shared under the download section below on this page. It will be for Windows 11, 10, 8, 8.1, 7, Vista, XP (32bit/64bit), Windows Server 2000 to 2022, Linux, Ubuntu, and MAC 10.x, 11.x, 12.x OS. Along with drivers, you'll get a detailed installation guide.
Let's start by downloading the driver first.
Steps to Download Kyocera ECOSYS M3645dn Driver
In our OS list, we have mentioned all the operating systems supported by this Kyocera m3645dn printer.
Step 1: Select the operating system where you want to install your Kyocera printer.
Step 2: Then click on its download button to start the download of your Kyocera ECOSYS M3645dn driver setup file.
Driver for Windows
Driver for Mac
Kyocera ECOSYS M3645dn driver for Mac OS 11.x to 12.x – Download (46.0 MB)
Kyocera ECOSYS M3645dn driver for Mac OS 10.9 to 10.15 – Download (46.0 MB)
Driver for Linux/Ubuntu
OR
Download the driver directly from the Kyocera ECOSYS M3645dn official website.
How to Install Kyocera ECOSYS M3645dn Driver
Any mistake in the installation of the Kyocera printer drivers can cause printing, scanning or copying problems in the future. However, you can easily avoid such problems by reading the installation guide for the full feature driver and its basic driver. Choose the guide that is suitable for you, then follow its installation steps to install Kyocera Ecosys M3645dn driver.
Method 1: How to install driver automatically using its setup file
Method 2: How to install driver manually using basic driver (.INF driver)
Kyocera ECOSYS M3645dn Features
The Kyocera ECOSYS M3645dn all-in-one printer has been designed for office teams of any size. This printer is capable of delivering high productivity, while maintaining low running costs. Despite having a compact design, this Kyocera laser printer has all the features which you will need for a versatile performance.
This monochrome laser printer supports automatic duplex printing, scanning, copying and faxing. You can also opt for a Data Security Kit if you want additional security. The Kyocera printer supports USB, Ethernet and Wi-Fi connectivity options.
Toner Cartridge Details
The Kyocera laser printer uses one black (TK3160) toner cartridge for printing, which has a page yield of up to 12500 pages.
Advertisement