To get the best performance of your Canon MG2410 all-in-one you must install it by using its genuine drivers and software. Therefore, we are sharing the latest Canon MG2410 driver package with its complete installation instructions.
The Canon MG2410 all-in-one is an inkjet printer designed for home use. The maximum print resolution offered by this printer is 4800 x 600 dpi and its top print speed is 8 ipm for black and 4 ipm for color prints. This printer supports high-speed USB connectivity.
Here, I'm providing you the Canon MG2410 driver download links for Windows, Linux and Mac operating systems. We have shared the latest version of the drivers so that you can safely install them to upgrade your software CD drivers.
Steps to Download Canon MG2410 Driver
Choose your preferred operating system from our OS list given below.
Click on its download button to download your Canon MG2410 driver setup file.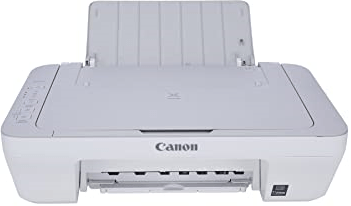 Driver Download Links
OR
Download the driver directly from the Canon MG2410 official website.
How to Install Canon MG2410 Driver
Follow the installation instructions given below to avoid installation mistakes while installing the Canon Pixma MG2410 printer driver. We have explained the installation process in simple steps so that even a new computer user can understand the right installation process easily.
How to install driver automatically using its setup file
How to install driver manually using basic driver (.INF driver)
Update Printer Driver
Regularly update your full feature Canon MG2410 driver with its latest version officially released by Canon. This simple looking step will greatly help you in getting the best performance from your printer as each new version of your printer driver is released after removing all the known bugs found in its older version.
Supported Operating Systems
Windows XP to Windows 10 (32bit / 64bit)
Windows Server 2012 to Server 2019 (32bit / 64bit)
Mac OS 10.6 to 10.15
Linux (32bit / 64bit)
Canon MG2410 Ink Cartridge Details
This inkjet printer uses one Black (PG-145) and one Color (CL-146) ink cartridge.
Question: What does it means that the green and orange light are on the printer? what to do?
Answer: It seems like there is a problem with the printer's Ink cartridge. Might be that they are not set up properly. Please re-install them again - pull both the ink cartridges out and set them up again properly. After setting it up, don't forget to perform the alignment of the cartridge. You'll get this option in the "printer properties". Also make sure that there is no paper jam - please clean it up. If both of these steps don't work, then try to power drain your printer. Here's how to perform a power-drain: https://www.freeprinterdriverdownload.org/power-drain-printer
Question: I have a New Mac Book Pro M! 16 GB OS Ventura 13.01 I need to connect my old printer ( Cannon Mg 2410 Pixma. can seem to find the up dated Driver, what can I do?
Advertisement