Epson L360 printer is a great combination of better performance and low-cost printing because the printer uses Ink tank technology. On this page, you'll get the Epson L360 printer driver download links for its supported operating systems under the download section. Also, we have mentioned the step by step installation guide on how to install Epson l360 printer on Windows XP, Vista, 7, 8, 8.1, 10, Server, Linux and Mac OS. There are two types of drivers that are usually available for download: full feature & basic feature drivers. Epson L360 MODEL NUMBER C462H – C11CE55501.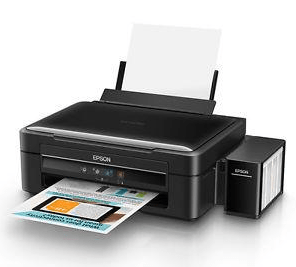 How do I download Epson L360 Printer Driver from Internet?
for Windows 10, 8.1, 8, 7, Vista, XP, Server 2000 to 2016, Mac and Linux OS.

First, determine the operating system version and system type 32bit or 64bit.
Go to the download list and click on the download link to Download the Epson L360 driver associated with the operating system that is running on your computer. Each driver has been designed to work with its operating system.
Downloads
OR
You can download the same drivers directly from Epson L360 official website.
Note: You can go for the second (Method 2) option if the first option isn't for you anyhow. This option is a direct download option from the printer's official website, so you will always get the latest drivers from there.
Epson L360 adjustment program (Resetter tool)
Click on the link below to download L360 adjustment program. This will fix the "waste ink pad" issue.
Click here to download L360 resetter tool.
Epson L360 User Manual Download
Click here to download L360 user manual
Click here to download Epson l360 start here guide
---
Epson L360 Supported OS.
This Epson L360 printer driver support all the Microsoft operating systems and also supports Linux and Mac operating system: windows XP (32bit) / windows XP (64bit) / windows vista (32bit) / windows vista (64bit) / windows 7 (32bit) / windows 7 (64bit) / windows 8 (32bit) / windows 8 (64bit) / windows 8.1 (32bit) / windows 8.1 (64bit) / windows 10 (32bit) / windows 10 (64bit) & Mac operating system.
How to Install Epson L360 Printer Drivers
You have two options to install L360 printer. Check them out below:
Install Epson L360 drivers through the automatic installation wizard method (Automatically)

[Watch Video]

How to install Epson L360 printer driver in Windows

In this wizard method, you have two methods 1 and 2, follow one of them:

Method 1: Install Epson L360 drivers through CD which comes with the printer – Read more
Method 2: Install Epson L360 drivers through a driver setup file which is easily available online on its official website – Read more
Note: In option B above, you can install printer drivers even if you have lost your printer driver disk. Now, you can easily install Epson L360 printer driver without using any CD/disk.

Install Epson L360 drivers through the manual installation method using the "Add a printer" option (Manually)

[Watch Video]

How to install Epson L360 printer driver manually using its basic drivers on Windows 10, 7, Vista



In this manual installation method you have only one option – C, follow this:

Method 3: In this manual method, you need to extract the driver file (.inf) from the setup file (installation package) and then install them through the "add a printer" method manually – Know More
Epson L360 Printer Description & Review

The L360 from Epson belongs to the Ink Tank System printers, which means the running costs of this printer are extremely low. Being a multi-function device that can offer printing, scanning and copying functionality, it makes sure that you not only save money but also time.
Epson L360 Main Features
The most impressive feature of this printer is its use of Epson's Ink Tank System. Due to the patented bottle tip design, you can easily do refills without causing any mess. The tubes in the printer have been designed to ensure that ink can smoothly flow through them all the time.
This printer is equipped with Epson's famous Micro Piezo print head technology. Therefore, it's capable of delivering improved print speeds for both monochrome and colored prints. High-volume printing is quick and efficient with this printer.
You get exceptionally high-quality prints with this printer as it can print at resolutions as high as 5670 dpi. Also, the one-touch scan and copy function provides you with clear draft copies and sharp scans in just a few seconds.
Specification
Variable-Sized Droplet Technology for printing.
Print speeds of up to 33 ppm for black and 15 ppm for color prints.
Print resolution of up to 5760 × 1440 dpi.
Manual duplex.
Input tray capacity of 100 sheets.
Epson L360 InkTank Cartridge
This printer uses the InkTank System of four colors: Black, Cyan, Magenta and Yellow. The ink for this printer is available in ink bottles. The details of these ink bottles are T6641 Black bottle (C13T664100), T6642 Cyan bottle (C13T664200), T6643 Magenta bottle (C13T664300) and T6644 Yellow bottle (C13T664400). The page yield for black ink bottles is up to 4,000 pages. The composite page yield of three colored bottles is up to 6,500 pages.
Epson L360 is also known as some other names:
Epson L360 Printer
Epson Printer Driver L360 Model number
Epson L360 Series
Epson L360 Ink printer
Download software for Epson L360
Epson printer driver for L360 website
Download Epson L360 Printer driver
Epson L360 Driver Download
Epson L360 Download Driver
Driver for L360 Epson printer
People can use the above steps to download the Epson L360 printer driver and scanner drivers from the internet. You can also reach it on this page through the following search terms.
Driver Requests:
I am humbly requesting you to send me a printer/scanner driver free of charge to use the Epson printer I bought in printing using my Dell laptop.

---
Questions & Answers
Search for Answers / Ask a Question - you'll get answer as soon as possible. It's Free
Was this article helpful?
Let us know if you liked the post. That's the only way we can improve.