Most computer experts would agree that the best drivers for the Epson EcoTank L4160 MFP printer are in its driver CD. But what if you have lost this CD or got it damaged? In this case, you can download and install this Epson L4160 using its online driver pack. In this article, we'll see how we can do this. So, let's get started.
On this page, we are offering Epson EcoTank L4160 driver download links for Windows XP, Vista, 7, 8, 8.1, 10, Server 2008, Server 2012 and Server 2003 for 32bit and 64bit versions, Linux and various Mac operating systems. The scanner driver of this multifunction printer is also included in the Epson 4160 driver package.
Steps to download Epson L4160 printer driver
Downloading your preferred printer driver from this site is very easy. First, select your operating system from our OS list where you want to install this printer. Then, use the download button associated with your OS to get its driver setup file.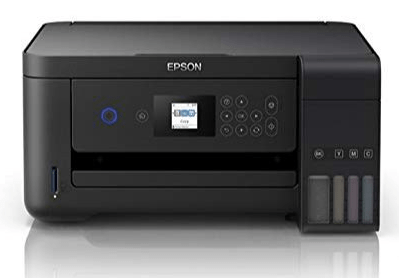 Epson L4160 Driver Download List
OR
Basic Driver
(for expert use only)
Follow the step-by-step guide on how to install the printer's basic driver manually using the .inf the driver.
A printer driver works as a dedicated and secure communication channel between your printer and your computer. Therefore, the performance of your printer is very much dependent upon the quality of your printer driver. For this reason, you must ensure that the full feature Epson EcoTank L4160 driver you are installing on your computer must be the official version of the driver.
---
How to Install Epson L4160 Driver
We are sharing below a driver installation guide, which explains in simple steps the appropriate method of installing your printer driver.
How to Install Your Printer Using an Installer
How to Install Your Printer Without Using an Installer
Epson EcoTank L4160 Supported Operating Systems
Windows XP to Windows 10 (32bit / 64bit)
Server 2000 to 2019 (32bit / 64bit)
Mac OS v10.0 to 11 Big Sur
Linux and Ubuntu
Epson EcoTank L4160 Features
The Epson all-in-one has a compact and sleek design, making it highly suitable for home users. Also, features like integrated ink tanks and automatic duplex printing allow this printer to deliver prints at very low costs. The versatility of this printer is further increased by options like wireless (wifi) connectivity and water-resistant prints.
InkTank L4160 Ink Bottle Details
Epson provided ink bottles for this printer in Black (C13T03Y100), Yellow (C13T00V498), Cyan (C13T00V298) and Magenta (C13T00V398) ink bottles.
Advertisement