The Kodak ESP-3 all-in-one is best suited for home users. This color inkjet printer uses a two-cartridge system to deliver decent quality color prints. You get a one-touch color copy feature with this multi-function device, which makes it an ideal machine for reprinting photos and copying documents. This printer supports only USB connectivity, but its sleek design is really impressive. To get the best results from this all-in-one device, you must install it using its genuine Kodak drivers.
In this driver download guide, we have provided Kodak ESP-3 driver download links for Windows, Linux and Mac operating systems. All the drivers shared below are genuine Kodak drivers which are fully compatible with their associated operating systems. We have also shared the driver installation guide which clearly describes the correct installation process for Kodak printer drivers.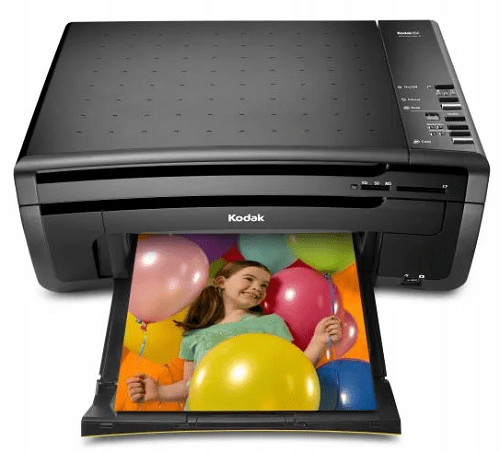 Steps to Download Kodak ESP-3 Driver
Follow the download steps given below to download your Kodak ESP-3 driver setup file:
Find the operating system in our OS list where you want to install your printer.
Use the download button associated with your chosen OS to start the download of your Kodak printer driver.
Driver Download Links
OR
How to Install Kodak ESP-3 Driver
For your convenience, we have shared the installation guides for the Kodak ESP-3 driver package and the Kodak ESP-3 INF driver. Study the guide related to your driver type and follow its instructions to avoid any printer driver installation mistake.
Steps:
Download the basic INF driver which is given in the download section above.
Extract (unzip) the driver's file from any location.
Connect your printer's USB or Parallel cable to the computer and make sure the printer is turned ON properly.
Now, go to the "Control Panel" → Devices → Printers & Scanners.
On the printer page, click on the "add a printer" option
Click on the option "The printer that I want isn't listed"
Then click on the option "Add a local printer manually"
Here it is asking you to select the port where your printer is connected. If you connect your printer to the USB port on the computer then select USB001/USB002/USB003, of it you connect this printer to the Parallel port then you should select LPT1 port. Then click the Next button to go for the further process.
Click on Have Disk.
Click on the Browse button and go to the location where you have extracted (unzipped) the driver and select any of .inf file from that folder. Click on OK then.

All the drivers that are in INF files are listed in front of you. Select the printer driver and click on Next.
Name the printer and click on Next. After clicking on Next, it will start installing, so wait until it finishes.
Select "Do not share this printer" and click on Next, if you would like to share the printer you may select "share this printer".
Click on finish.
Kodak ESP-3 Ink Cartridge Details
This Kodak inkjet printer uses one black (3947058) and one color (3947066) ink cartridge, which has a page yield of up to 425 pages and 420 pages respectively.
Advertisement